Disney's The Little Mermaid Jr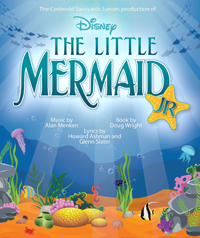 2nd - 5th November 2022
Playhouse, Cheltenham
Stage Director: Helen Carter
Musical Director: Vickie Long
Choreographer: Shelley de Boer
Cast List
Ariel - Nathalie Bond
Eric - Connor May
Sebastian – Jess Abiona
Flounder – Eliza Griffiths
King Triton - Jack Parrott
Mersisters/Princess - Lola Carter, Libby Evans, Penelope Steele, Dulcie Davidson, Zoe Clarke, Lottie Dyer
Ursula - Daisy Williams
Flotsam - Jem Paris-Johnstone
Jetsam – Roisin Swift
Scuttle - Freddie Flood
Grimsby – Harry Thomas
Chef Louis / Ensemble – Libby Lavender
Carlotta – Layla Harford
Pilot / Emsemble – Nathaniel Swift
Sea Horse/ Ensemble – Harriet Norris
Tapping Gulls / Ensemble – Brooke Forsey, Iris Rees, Olivia Martin-Almagro Parker
Ensemble - Tentacles/Chefs/Sailors/Merfolk/Sea Chorus/Sea Creatures
Sunnie-Jai Ellis
Amy James
Orla Parker-Wells
Charlotte Berry
Eva Nunez
Miley Hawkins
Holly Bodenham
Journey "under the sea" with Ariel and her aquatic friends in Disney's The Little Mermaid Jr, adapted from Disney's Broadway production and the motion picture (featuring the enormously popular Academy Award-winning music by Alan Menken and delightfully charming book and lyrics by Doug Wright, Howard Ashman and Glenn Slater). Based on one of Hans Christian Andersen's most beloved stories, Disney's The Little Mermaid Jr is an enchanting look at the sacrifices we all make for love and acceptance.
In a magical underwater kingdom, the beautiful young mermaid, Ariel, longs to leave her ocean home and her fins behind and live in the world above. But first, she will have to defy her father, King Triton, make a deal with the evil sea witch, Ursula, and convince the handsome Prince Eric that she's the girl whose enchanting voice he's been seeking.
Let your imaginations run wild in the fantasy of being underwater and have fun embarking on your own journey in mysterious fathoms below to discover Ariel's voice.