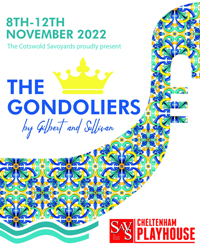 8th - 12th November 2022
Playhouse, Cheltenham
Gilbery and Sullivan
Stage Director:
Diana Dodd
Musical Director:
David Manifold
Chous Master:
Tom Mullins
Choreographer:
Penny Shewell
Cast List
The Duke - Anthony Jones
Luiz - Samuel Taunton
Don Alhambra - Paul Chesworth
Marco - Mike Ferris
Giuseppi - Jim Whalley
Antonio - Richard Schofield
Francesco - Mike Morton
Giorgio - Duncan Hooper
Annibale - Simon Lewis
The Duchess - Bronwen Carless
Casilda - Selina Greenland
Gianetta - Megan Donnelly
Tessa - Sheila Ham
Fiametta - Fiona Gordon-Smith
Vittoria - Sarah Eliot
Giulia - Sim Small
Inez - Tessa Champion
Ensemble/Overture Performers:
Ciara Barrett, Jo Scriven, Jule Reader-Sullivan and Tessa Champion
Brothers Marco and Giuseppe, both Venetian gondoliers, have only one goal in mind - to marry Gianetta and Tessa, the girls of their choice. However, they are shocked to discover that one of them is the heir to the kingdom of Barataria, and as such was betrothed as an infant to Casilda, the daughter of Duke and Duchess of Plaza Toro. In true Gilbertian style, all they have to do is work out which brother is which. Gilbert's pithy commentary on social climbing and misguided notions of equality perfectly complements the exuberant music from Sullivan, in a colourful, energetic show that includes the well-known "Take a Pair of Sparkling Eyes" and "Dance a Cachuca."