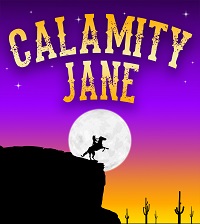 5th - 9th November 2019
The Playhouse Theatre, Cheltenham
Lyrics by Paul Francis Webster
Music by Sammy Fain
Stage Director:
Sheila Ham
Musical Director:
David Manifold
Choreographer:
Hattie Davis
Following the highly acclaimed My Fair Lady and Oliver! The Cotswold Savoyards proudly present the classic musical Calamity Jane.
Calamity can outrun and outshoot any man in Deadwood. Hard, boastful and desperate to impress, she travels to Chicago on the Deadwood Stage to recruit a star, Adelaide Adams. But things don't go too smoothly for Calamity, as everyone in town favours the new girl and she struggles to keep her jealousy and pride in check. It takes her long standing enemy Wild Bill Hickock to make her see sense, and realise her Secret Love.
With an Oscar nominated score that includes The Black Hills of Dakota, The Deadwood Stage (Whip-Crack-Away), Just Blew in from the Windy City and the Award winning song Secret Love.
Please see below the call times for auditions on Sunday 7th July 2019 to be held at Shurdington School, Badgeworth Lane, Shurdington, Cheltenham, GL51 4UQ.
All timings are approximate but we will try to stick to them.
| | |
| --- | --- |
| 11.00am | Ensemble music recap and dance |
| 11.30am | Ensemble singing and ensemble / Can Can dance, including Millie / Susan / Frances |
| 12.15pm | Ensemble dialogue |
| 12.30pm | Millie / Susan / Frances |
| 2.00pm | Adelaide / Katie |
| 3.00pm | Danny / Bill / Calamity |
Click here for an introduction to the show, character descriptions and audition information.