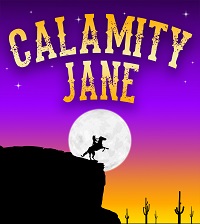 5th - 9th November 2019
The Playhouse Theatre, Cheltenham
Lyrics by Paul Francis Webster
Music by Sammy Fain
Stage Director:
Sheila Ham
Musical Director:
David Manifold
Choreographer:
Hattie Davis
Following the highly acclaimed My Fair Lady and Oliver! The Cotswold Savoyards proudly present the classic musical Calamity Jane.
Calamity can outrun and outshoot any man in Deadwood. Hard, boastful and desperate to impress, she travels to Chicago on the Deadwood Stage to recruit a star, Adelaide Adams. But things don't go too smoothly for Calamity, as everyone in town favours the new girl and she struggles to keep her jealousy and pride in check. It takes her long standing enemy Wild Bill Hickock to make her see sense, and realise her Secret Love.
With an Oscar nominated score that includes The Black Hills of Dakota, The Deadwood Stage (Whip-Crack-Away), Just Blew in from the Windy City and the Award winning song Secret Love.
Cast List
Calamity Jane - Joy-Amy Wigman
Wild Bill Hickock - Robbie Gardner
Lieutenant Danny Gilmartin - Robert Barton-Ancliffe
Katie Brown - Amber Smith
Francis Fryer - Samuel Taunton
Adelaide Adams - Caroline Kendal
Millie - Bronwen Carless
Susan - Heather Gallagher
Dancing Girls - Liv Birch, Aimee Brasington, Lisa Crowhurst, Helen Carter
Ensemble:
Angie Aston
Sarah Aston
Sarah Eliot
Anne Martin
Bex Partlett
Inma Perez de Herves
Sarah Rogers
Tracey Sweeting
Tim Cook
Anthony Jones
Tom Mullins
John Pickup
Jim Whalley
Richard Schofield
Malcom Webb
Jim Whalley
Click here to read the NODA review.