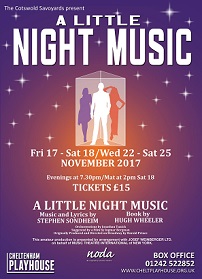 17th - 18th, 22nd - 25th November 2017
The Playhouse Theatre, Cheltenham
By Stephen Sondheim
Stage Director:
Caroline Young
Musical Director:
Sue Black
Meet Desirée, a one woman wrecking ball of love and lust who leaves a trail of broken hearts wherever she goes. Things are awkward enough as she starts an affair with old boyfriend Fredrik Egerman right under the nose of her current lover Count Carl-Magnus Malcolm, but when their wives Anne and Charlotte find out, things start to get REAL.
What's a girl to do? In Desirée's world the only thing to do is invite the whole gang for a weekend away with her family, throw in songs, banter, the mother of all parties and hope for the best. With everyone in one place, romance and the promise of second chances in the air, things are bound to work out right?
A witty story of love, lust and regret, Stephen Sondheim's elegant wordplay and musical mastery won four Tony Awards, and features the classic 'Send in the Clowns'. 'A Little Night Music' will fire your passion and leave you breathless.
Cast List
Madame Armfeldt - Sally Lewis
Desiree Armfeldt - Kate Bennett
Frederika Armfeldt - Emma Parott
Anne Egerman - Alice Wilman
Charlotte Malcolm - Sheila Ham
Petra - Anne Martin
Mrs Anderssen - Nathalie Eeckhout
Mrs Nordstrom - Lesley Hendrie
Mrs Segstrom - Sheryl Walpole
Henrik Egerman - Jordan Phillpotts
Frederick Egerman - Robert Desmond
Carl-Magnus Malcolm - John Pickup
Mr Erlanson - Tom Mullins
Mr Lindquist - Ashley Frieze
Frid - Robert Barton-Ancliffe
Malla - Macie Timms
Bertrand - Caroline Kendal
Osa - Maggie Preston
To book tickets please visit the Playhouse Theatre website: http://www.cheltplayhouse.org.uk/whats-on/autumn-2017/a-little-night-music/
For further information please contact Peter Young, Production Secretary, at peter@arleroad.com.