Princess Ida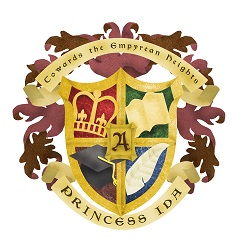 21st - 26th November 2016
Playhouse Theatre, Cheltenham
By Gilbert & Sullivan
Stage Director:
Simon Lewis
Musical Director:
David Manifold
"All men are fools, and what makes them so is lacking intelligence like what I have got!" believes militant blue-stocking Princess Ida, misandrist principal of the ladies-only University of Castle Adamant, where not even a cockerel is allowed to crow each morning to rouse the feminist undergrads. Some diplomatic small print, however, requires Ida to marry Prince Hilarion to honour a 20-year-old peace treaty with rival Castle Hildebrand. Will Ida defiantly remain prince-less, or will Hilarion finally graduate to married strife, sorry, life?
Gilbert & Sullivan's clever sideswipe at the influence of Charles Darwin and burgeoning women's education, uniquely couched in blank verse and driven by a sparkling music score, remains a deft battle of the sexes, giving an entirely new meaning to the term "University Challenge", whilst addressing all manner of obscure subjects. What is a gentle heigholet? What is the botanical name for a buttercup? Why is Lady Blanche such a misery guts? Is this opera really set in Hungary? Let the Savoyards enlighten you!
Cast List
Kind Hildebrand - Brian Crosby
Hilarion - Samuel Taunton
Cyril - Paul Chesworth
Florian - Robert Barton-Ancliffe
King Gama - Anthony Jones
Arac - Malcolm Webb
Guron - Oliver Blake
Scynthius - Simon Lewis
Princess Ida - Cathy Keating
Lady Blanche - Bronwen Carless
Lady Psyche - Fiona Gordon-Smith
Melissa - Sheila Ham
Sacharissa - Lisa Crowhurst
Chloe - Molly Masters
Ada - Penny Lewis

Chorus:
Tessa Champion
Sarah Eliot
Monica Lloyd
Liz Organ
Sue Pawley
Maggie Preston
Pat Schofield
Jo Scriven
Sheryl Walpole
Neal Carter-Lewis
Duncan Hooper
John Larmour
Richard Schofield
Fred Symes
Phil Wenham
Click here to read the NODA report.